Home Event Tickets
Events
Prices Between £5.00 to £7.50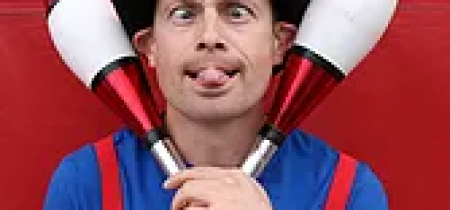 Custard Storm - Colourful Magic & Mayhem Workshop
Colourful Magic & Mayhem Workshop.
As part of our February Half Term 'Wild World of Colour'
Custard Storm Productions & Dartmoor Zoo are teaming up to create a colourful and entertaining workshop for children of all ages 3 and upwards.
Whether they're avid jugglers or first time novices, a team of highly trained circus skilled artists will be on hand to make sure they have a thoroughly enjoyable time. 
https://www.custardstorm.com 
Our workshops can include juggling with scarves, balls, rings and clubs, diablo, devil and flower sticks, plate spinning, hula hoops, Chinese ribbons, poi, fun feet, pedal goes, balance bar, uni-cycling and a variety of different stilts to walk on.
Reinforce positive learning

Encourage creative thinking

Instil enthusiasm in the learning process

Boost Self Confidence

Provide a fun way into physical exercise

Increase Self-esteem and self-awareness

Increase hand eye co-ordination

Improve balance

And are fun for everyone involved!
On Saturday 19th and Wednesday 23rd February we are hosting 3 sessions a day.
10.30am & 11.30am Sessions at £5.00 are 45 minutes (approx. 15 minute demonstration & 30 minute workshop) Suitable for all ages 3+
13.30 Session at £7.50 is 1 Hour (approx. 30 minute show & 30 minute workshop) Aimed for 8-12yrs and upwards
These workshops are being run during Ferbruary Half term in addition to general admission. Please ensure that you book your admission tickets as well as the workshop. 
Find out more
Book now